2019 UPDATE: I quit using Roboform many years ago and realized this ancient post still gets traffic. I'm sure Roboform still works fine, but I tested and preferred Lastpass. I switched over around 2010 and have been with it ever since, though with recent price hikes (now $36/year for Premium), I'm less enamored. That said, for an individual user, the free version of Lastpass gives you everything you need.
I am an absolute Roboform lover. It's gotten to the point that my wife and I can't bear to use a computer without having Roboform on it and now own three licenses between us. My wife really likes the Google Chrome browser, but refuses to use any browser that doesn't have Roboform integration. If you're like us and you do most of your banking, pay your bills, lots of shopping and so on, you have dozens of logins. If so, it's just painful to surf the web without Roboform.

But it does have one annoyance that was driving me nuts. Quite often you'll have multiple entries for a given domain. For example, I have two gmail address and my wife has one. So if I go to gmail.com (er, actually google.com/mail), Roboform gives me three logins to choose from. Now I want my main account, not my wife's or my spamcatcher account. Naturally, I set my main account as my default, but every time I would go to Roboform, it would try to sign me into my wife's account by default. So I can't just push a button and go, I need to select from the list of three, push a button and go.
Why wasn't my default choice working?
I finally figured out that Roboform was listing my choices alphabetically and ignores my preference.
It turns out taht there's a simple setting to fix this. By default, Roboform is set to "use best URL match" and, given several equally good matches, sorts alphabetically regardless of what the default is set to. So you simply turn this setting off and your defaults will work. Changing the setting is simple:
Fire up a browser that has Roboform integrated.
Click the down arrow on the Roboform icon and choose "Options" (see screenshot #1)
Under the General Options tab, uncheck the box that says "Show Matching Passcards with the best URL match on top (screenshot #2).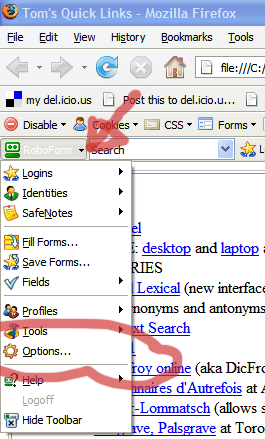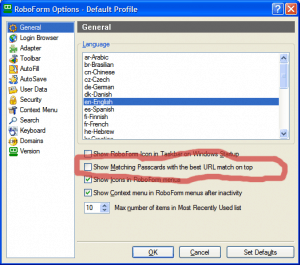 Why Roboform doesn't default to this option is a mystery to me, since it will only show you logins with matching domains anyway. I suppose if you had different logins for different parts of a site, like say for "support" and "forums", you would prefer a URL-based match. That seems like it would be the less-likely scenario and, generally, Roboform seems to be very well thought out in terms of usability, but there it is. That's how it works out of the box and how to bend it to you will.
So that got rid of the one little nit I had to pick with Roboform.